Download WhatsApp Red Edition Latest Version 3.3 For Android
|
Download WhatsApp Red Edition Latest Version 3.3 For Android: Are you looking for the red color WhatsApp? If yes, then you can download it from this page. This is a mod app (not an official app) that gives some extra features with a red stunning theme. The app isn't available in the Google Play Store. But, you don't need to pay anything for this app, because this app is free.
Well, the WhatsApp official app is in green color and customization options are not available. So, most of the people are getting bored with this color, that's why some users want to change its theme. So, if your favorite color is red, then this app is for you. However, you can change the WhatsApp theme with keyboard and background color. But, nowadays, there are so many third-party (mod) apps available for customization. So, WhatsApp Red is one of the popular mod apps.
However, there are better mod apps are available than this, but, its red theme is awesome. You can also try its popular alternatives like GBWhatsApp, WhatsApp Plus, FouadWA, and YOWhatsApp. Also, it's true that these mod apps give more features than WhatsApp Red edition. But, it's your choice which app you want to use.
What is WhatsApp Red Edition?
Well, WhatsApp red edition is a third-party (mod) app for WhatsApp with the red theme and some new features. However, its user interface is the same as an official app except its color. The app is available only for Android phones. So, you can't use it on an iPhone or other devices. However, you can use it on a Windows PC and MAC with emulator software. But, you can't get a good experience.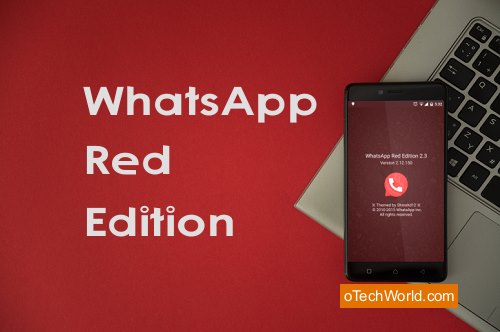 The app works on both rooted or non-rooted Android phones. So, there is no need to root an Android phone only for this app. Also, you can use two WhatsApp accounts on the same phone with this app.
Note: This app isn't working on all devices, because this is a beta version. You can "download WhatsApp red version" from the given download link on this page. Also, 3rd-party apps are not good for your mobile phone or privacy. WhatsApp may temporarily ban your account for some hours. So, use it at your own risk.
Features of WhatsApp Red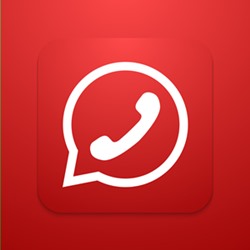 Basically, this mod app is developed for only red theme lovers. So, there is nothing in the extra features list. Below is a list of features.
Red UI: As per its name, the app is available in a red color theme which looks cooler than the original green color. However, you can do some color changes, but it comes with a default red theme.
New Icons: All icons (Messages, call, and settings) are new that matches with its layout. You may fall in love with its layout or icons.
Requirements to Download and Install WhatsApp Red Apk
You can download and install it on all Android devices. But, below is the list of minimum requirements to use this app.
Android Operation System version 4.0.3 or above.
WiFi/Internet on the smartphone.
Working mobile number for a new account.
Download WhatsApp Red Edition Latest Version 3.3 For Android
Here at oTechWorld, we provide the latest version of WhatsApp Red 3.3. Just click or tap on the "Download" button to get this file on your phone or PC. If you face any problem, then write in the comment section.

| | |
| --- | --- |
| Application Name | WhatsApp Red Edition |
| App Version | 3.3 |
| Android Version Requirements | 4.0+ |
| App Size | 26.90MB |
| Developer | Unknown |
| Need Rooting | No |
Change Log of WhatsApp Red 3.3 (New Features of version 3.3)
Base Updated to latest version.
Exclusive: User Interface color changed.
Removed: Update Notification.
Added: New Notification icons (Messages and calls).
New Call icons added for Outgoing, incoming, and missed calls.
Added: All new settings list icons.
New style added for attachment picker and incoming messages.
Added: Navigation bar color.
How to Install WhatsApp Red on Android Phones
The installation of 3rd party app on Android is not a difficult job/task. But, some non-techie guys may face some problems. Well, below is the complete guide on this.
(Note: This guide is for only Android devices. You can do that on the iPhone or other OS)
If you have Android Oreo or latest OS version, then you need to allow this option while downloading. When you tap on the download button, you will see the prompted options, and then tap on the Settings option to allow install unknown apps from this source. After that download and install the app on your phone.
If you have the previous version of Android than Oreo, then below are the steps.
At First, Download the apk file of the latest version of this app from the above given link on your Smartphone.
Now, You need to allow "unknown sources" option from your phone's settings. To do this, go to Settings > Security > Unknown Sources and enable this option. By default, this option is disabled. When you tap on the unknown sources option to enable it, you will see the warning message. Just tap on the Yes button to enable it.
After that, tap on the downloaded apk file and you will see the Next/Install option. Tap on this option to install the app on your phone. It may take a few seconds to done.
Open the installed app from the app drawer and enter your mobile number to create an account. After that, you will receive an OTP for verification. After verification, you can use this app.
Frequently Asked Questions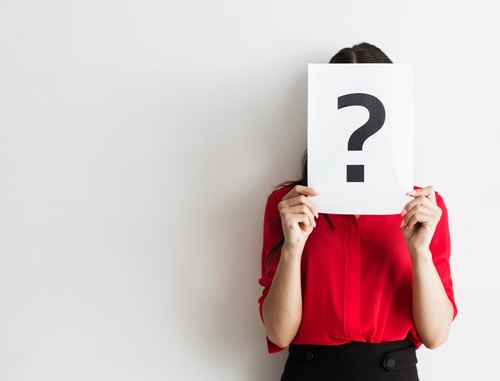 Question 1: Is it Better than GBWA and mod apps?
Answer: No, GBWA gives a lot more features than this app. You can also try YoWhatsApp, because it supports themes. WhatsApp red is only a red color WhatsApp with limited features.
Question 2: The app isn't installed on my Android phone, what to do?
Answer: The app is not stable and may not work on all phones. You should try other apps like GBWhatsapp or YoWA.
Question 3: Can I use this app with official Whatsapp?
Answer: Yes, you can use this app alongside with official app to use two accounts on your phone. However, you can use the same mobile number on both apps. You need a separate mobile number for both apps.
Question 4: Can I use it on the iPhone?
Answer: No, you can't use it on the iPhone. This app is available for only Android devices.
Question 5: Is 'WhatsApp Red' is safe?
Answer: 3rd-party or apps from unknown sources may not safe for your device or privacy. So, it is risky to use these apps.
WhatsApp Red Alternatives
1. GBWhatsApp
GBWA is one of the most popular mod apps from WhatsApp which gives a lot of amazing features with customizations. You must try this app because it is better than any mod apk such as "WhatsApp Red apk".  Click here to download GBWA latest version on your phone.
Features of GBWhatsApp
It supports themes, so you can change its theme as you want.
You can stay online for 24 hours.
It allows you to send up to 90 images at once.
Send video up to 50 MB.
You can hide last seen, blue ticks, second ticks, and online status.
Status saver feature to save the status.
You can delete or recall sent messages.
2. WhatsApp Plus
Well, this apk is also popular mod apk. But WhatsApp plus gain less popularity than GBWA. The features are almost as an above app in the list. But, most of the people love this app, because it is one of the oldest mod apps in its category. You can Download WhatsApp Plus from here.
3. YoWhatsApp
YoWhatsapp is another mod apk which mainly popular for themes. If you are a theme lover, then you must try this app. Basically, this app is developed for theme lovers. Apart from this, it also gives extra useful features. Below is a list of features.
Theme support to change the color of the app.
Inbuilt app lock for more privacy.
Privacy options such as show/hide online status, blue tick, second tick, and last seen.
Support stickers.
Send full-size image.
Final Words
You can Download WhatsApp Red Edition Latest Version 3.3 For Android from this page. Also, you must read the installation guide and FAQs. If you have any problem, then write a comment in the comments section.
If you are a WhatsApp lover, you may try mod apps to use new features. But remember, these apps are not 100% safe. Well, most of the people prefer mod apps. WhatsApp Red edition is a great app with a red theme, but it is not a stable app. Many people face the installation issue with this apk.