Download GBWhatsapp Latest Version 5.60 For Android 2017
|
Download GBWhatsapp Latest Version 5.60 For Android: GBWhatsapp is a third party app for Whatsapp and it is a most popular app for Android phone. Now, you can download the latest version of GBWhatsapp from here. So, Update your GBWhatsapp for more cool features. GBWhatsapp is not an official Whatsapp app. But, it gives cool and more features than official Whatsapp. There are also other third party Whatsapp apps available on the internet like OGWhatsapp and Whatsapp Plus. But this app is much cooler than other apps. If you want to Run 2 Whatsapp accounts on your phone then here are
There are also other third party Whatsapp apps available on the internet like OGWhatsapp and Whatsapp Plus. But this app is much cooler than other apps. If you want to Run 2 Whatsapp accounts on your phone, then here are Safe Methods To Run 2 Whatsapp Accounts In One Phone. But, In GBWhasapp you can also run two WhatsApp in one android device. The link is given in this article to Download GBWhatsapp.
There are a lot of Whatsapp tips and tricks with official Whatsapp app. Here are Top 25 Best Whatsapp Tricks and Tips To Chat Like A Pro. 
Note: GBWhatsapp is not the official Whatsapp app. So, use it at own risk. If you prefer security first, then don't use third party apps. Third party apps may contain malware. You can 'Download GBWhatsapp' from below link in this article.
What is GBWhatsapp?
Well, GBWhatsapp is a third party app for WhatsApp. Also, it provides a lot of features like Run two Whatsapp in one Android phone, you can hide last seen, hide read message ticks etc. So, you can install GBWhatsapp on both rooted or non-rooted Android phones. But, you can use this app only for Android phones. There is no version available for other smartphones like an iPhone.
GBWhatsapp has many features that are not available on official Whatsapp. That's why everyone loves this app. In previous days, Whatsapp bans the accounts which are using third party Whatsapp apps like OGwhatsapp and GBWhatsapp.
Download GBWhatsapp Latest Version 5.60 For Android
You can download GBWhatsapp from below link. If you have any problem while download GBWhatsapp then drop a comment in the comments section.
Download GBWhatsapp apk (GBWhatsApp Android App Download)
After download GBWhatsapp, you need to install GBWhatsapp.
| | |
| --- | --- |
| Application Name | GBWhatsapp |
| App Version | 5.60 |
| Android Version Requirements | 4.0+ |
| App Size | 35.4MB |
| Official Whatsapp App | Official Whatsapp App |
| App Developer | GBModes |
| Need Rooting | No |
How To Install GBWhatsapp
Below are the steps to install gbwhatsapp.
1. First of all, you need to allow unknown sources on your Android smartphone. Because GBWhatsapp is a third party app. So you need to allow Unknown Sources.
Go to Settings > Security > Allow Unknown Sources.
2. Open apk file of GBWhatsapp that is downloaded from the above link. Wait some time to install this app on your Android smartphone.
3. After installation, Open GBWhatsapp and enter your mobile number. Verify your mobile number.
4. After verification, you are done.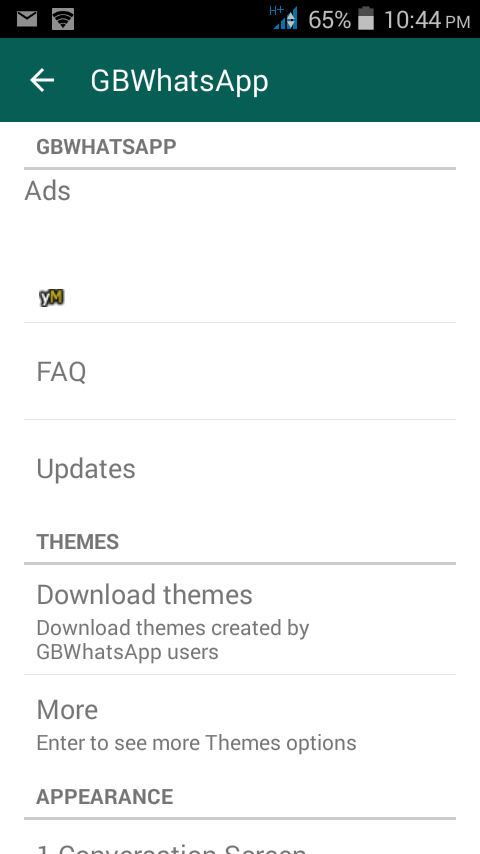 Now you can enjoy GBWhatsapp with cool and amazing features. There are a lot of new features in this app.
Features of GBWhatsapp
There are a lot of amazing features in GBWhatsapp.
You can hide last seen for specific contacts.
You can hide status for specific contacts.
Disable calls for specific contacts.
Run 2 Whatsapp in one Android smartphone.
Hide blue tick.
Send a broadcast message to 600 contacts. (In the official Whatsapp app you can send a broadcast message to 250 people.
Send GIF photos.
Support Themes.
Send video up to 30MB. (In official Whatsapp, you can send up to 16MB video).
Send 90 photos at once. (You can send only 10 photos in official Whatsapp at once)
It Also supports calls.
You can copy friends status.
Copy multiple messages without date and sender name.
Inbuilt lock option.
You can change app icon.
Better Media preview.
No Ban (Ban Proof).
So, these are only the main features of GBWhatsapp. But, there are a lot more features available on GBWhatsapp.
Conclusion
So, GBWhatsapp is a third party app for Whatsapp. If you are Whatsapp lover, then you must try this app for more cool features. But, if you are using an iPhone, then this app is not for you. Because GBWhatsapp is only available for Android users.
Also, GBWhatsapp supports themes. So, you can enjoy many themes in GBWhatsapp. After download GBWhatsapp, you can get all features.