Download WhatsApp Plus Latest Version 6.88 | 2019
Download WhatsApp Plus Latest Version 6.88 For Android 2018: Are you bored from the official Whatsapp application? Try WhatsApp plus and GBWhatsapp. WhatsApp Plus is modified and third-party WhatsApp application and this app provide more features than official WhatsApp. You can download the latest version of Whatsapp Plus from this page.
Nowadays, everyone uses WhatsApp to connect with their friends and send messages, photos, and videos to their friends. Whatsapp provides a lot of features. Many features are hidden in WhatsApp and every user doesn't explore all features. So, here are hidden features and tricks for Whatsapp. But, There are some features limited in official WhatsApp. That's why third-party Whatsapp applications are so popular for Android. These applications, like Whatsapp Plus, GB WhatsApp, and OG Whatsapp provide many unique features.
If you want to hide your WhatsApp last seen, then this app is useful for you. It provides tons of cool features. However, In the past, you could not use this app with the official app. But now you can install Whatsapp Plus on your phone without uninstalling an official app. So, it may help you to run two WA accounts simultaneously.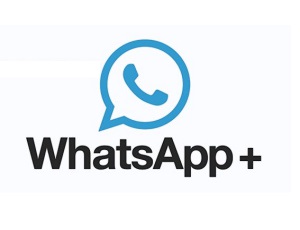 All About WhatsApp Plus?
Well, WhatsApp Plus app is a modified third-party WhatsApp application that gives more features, that are not available in the official app. You can hide last seen, blue ticks, second tick (delivered message tick), online status. You can also send documents up to 50MB and send up to 100 documents at once. There is no need to root your Android device to use this app. Also, this app is available only for Android, not for iPhone.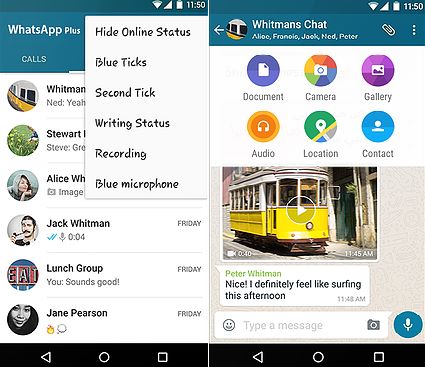 WA+ app is developed by Atnfas Hoak (from the developer of GB Whatsapp). These two mod apps are much popular than other apps because of the features.
People love this app because of its features. So, you should try this app to access more features. With this application, you can do many things that you can't do in the official app.
Generally, This mod app is commonly known for its theme option. You can change the theme in this app. Most of the WhatsApp users want to change the theme, so, this apk is the solution for those people.
Note: WhatsApp Plus is not an official WhatsApp application. Use it at own risk. Third-party apps may have malware or privacy issues.
Requirements To Install WhatsApp Plus
Android OS version 4.0.3 or above.
Mobile number.
Working Internet connection.
An Android device able to receive verification SMS or call.
Download WhatsApp Plus Latest Version 6.88 (2019)
Below is the link to download apk file of WhatsApp plus for Android. Just tap or click on the "Download Now" button to start the downloading. If you have any problem to download this app, then write a comment in the comment section.
Download WhatsApp Plus APK (WhatsApp Plus Android App Download)

After, download this apk file, you need to install Whatsapp plus on your Android smartphone. Installation is not a difficult task, but, we write the step by step guide in this article to install WA+ on your Android device.
| | |
| --- | --- |
| Application Name | Whatsapp Plus |
| App Version | 6.88 |
| Android Version Requirements | 4.0+ |
| App Size | 26.82MB |
| Official Whatsapp App | Official Whatsapp App |
| Need Rooting | No |
Changelog of WhatsApp Plus (New Features added)
You can add stickers from Google PlayStore. You need to update sticker packages.
New fonts added.
New App for Wallpapers. Go to Settings > Chats > Wallpaper > Wallpaper Library to download the app.
You can use the default WhatsApp icon.
You can pin up to 30 chats.
All bugs fixed.
Installation Guide Of WhatsApp Plus On Android
First of all, you need to uninstall official WhatsApp from your mobile phone. So, Backup your chat before uninstalling official WhatsApp. To backup the chat data, Open WhatsApp and Go to Settings > Chats > and tap on the Backup button.
Well, You don't need to root an Android phone. So, everyone can install this app easily on their phone. Below are the steps to install Whatsapp Plus.
1. This is a third-party app and not downloaded from the Play Store. So, you need to allow unknown sources on your Android device to install this app.
Open Settings > Security > Allow unknown sources. 
2. After uninstalling the official app, Open apk file of WhatsApp plus that you downloaded from the above link, and install this app on your smartphone.
3. After installation, open WhatsApp Plus app and enter your mobile number. You will receive an OTP to verify your mobile number.
4. After verification, you are done.
Now you can use this app with new cool and unique features.
Features of WhatsApp Plus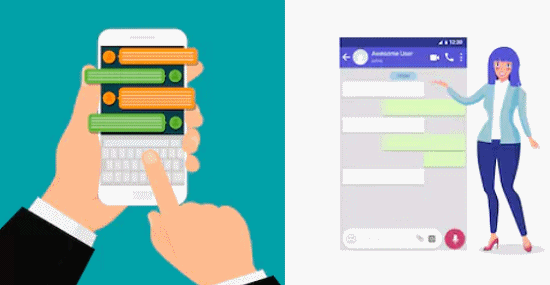 There are many new, amazing, and cool features in WhatsApp Plus. Below is the list of features.
Hide online status: This is a most useful feature in this app. You can hide online status and use Whatsapp without going online.
Hide Blue Tick: You can hide blue tick for your friends when you read their messages.
Hide Second tick: You can hide the "message delivered" tick.
Hide View Status: You can hide view status for your friends. Your name will not show when you see the status.
Hide Recording Status: Hide recording status when you record your voice.
Send Document up to 50 MB: You can send documents (PDF, doc, and other files) up to 50 MB.
Image/Video Filter while sending the photo and video.
Revoke multiple messages at once.
Send up to 100 documents at once.
Delete sent messages.
Photos/Videos auto download from a specific person or group.
You can change the icon of an app.
Send videos up to 50MB.
You can change the chat and notification background color in this app.
Send original size photos without compression. (When you send the photos in Whatsapp, it reduces the photos size. But, this app sends full-size images. However, you can also send full-size images on official WhatsApp).
It supports themes. So, you can change the theme and UI color according to your requirement. You can also buy paid themes.
You can show the different status for different contacts or friends.
Read the status of your friend while the chatting with your friend. You don't need to open your friend's profile to read the status.
You can set a password for chats and app.
Share location with one click.
Copy your friends status.
Support calls.
Status limits up to 255 characters.
Ban proof.
Some New Features In WhatsApp Plus
New Emojis.
DND mode to disable internet in WhatsApp plus.
Increase video limit in status.
Clock Sticker.
Option to Hide DND mode icon.
Added option to change fab size.
Added option to change fab location.
Support the German language.
Final Words
So, This is a complete guide to download and install WhatsApp plus on your Android phone. If you are a WhatsApp lover, then you should try this app. This app is only for Android devices not for iPhone. So, you need an Android device to use this app. This app gives more features than the official app. So, you can enjoy these features. Also, it supports themes. You can change the color and UI with themes. This feature is also loved by many users.
About The Author
Gagan Bhangu
Web-developer | Blogger | Internet power user | Founder and the author of oTechWorld.com