How To Turn Off Recent Items In Windows 10
|
Windows 10 shows the list of documents, apps and media that you opened recently in the recent list. Also, frequent places show the important folders that are used commonly. The Windows 10 also shows the list of the most used apps in start menu. Read this post to know How To Turn Off Recent Items In Windows 10.
When you open any item in windows 10, then it will add to the top of the recent items list. In Windows 10 recent items are shown in Quick access and under file explorer in Start menu.
Read Also:How To Turn Off Background Data In Windows 10
Recent files in Quick Access and Frequent places under File Menu:

Most used apps and recent items in Start Menu: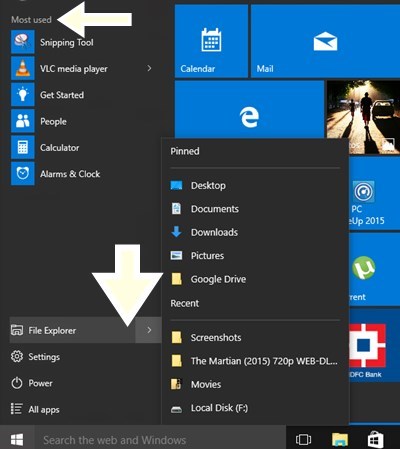 How To Turn Off Recent Items In Windows 10:
Open Settings from the start menu or either press Windows Key+I.
Open Personalization.
Open Start option from the left.
Turn Off Most used apps and Show recently opened items in Jump Lists on Start or the taskbar.
After turning off these options, your recent items list and Frequent places will be disabled from quick access and start menu.
Share this post if you found the information in this post is useful.