How To Convert OPUS To MP3 On Mobile And PC
|
Searching for how to convert OPUS audio file to Mp3 file, then you are at right page. Here is how to do this on your Mobile (Android and iPhone) and PC. Recently I wrote about how to convert and save Whatsapp voice messages. Because Whatsapp also records the voice messages in OPUS format. OPUS audio file doesn't support by many audio players. To play the OPUS file in a smartphone, you need to install other media or audio player. But, it is good to convert this file to Mp3. Because all audio and media player supports this format.
It is easy to do this on Mobile and PC. However, On PC, if you are using VLC media player, then you can play OPUS audio file. But, VLC also provides many useful features including convert audio and video. So, you can also convert OPUS to Mp3 with VLC media player. There are many third-party apps, websites and software are available.
If you are using converter software on PC, you can do this with it. But, You can also convert the OPUS file with a VLC media player on PC. Whatsapp also sends or record its voice or audio messages in this format. So, for mobile phone users, you need to install the apps to do this.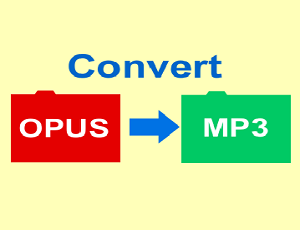 How To Convert OPUS To MP3 On PC
On PC, you can use Converter software, Online converter tool, or VLC media player to do this. Here we write about how to convert OPUS file with the online tool and VLC media player.
Using Online Converter Tool (Also Works On Mobile)
If you want to convert Whatsapp voice messages in PC, then you need to transfer your messages to your PC.
Using VLC Media Player
VLC is commonly used by everyone. It also allows converting the audio and video files.
Open VLC Media player and click on the Media > Convert/Save. (Keyboard shortcut: Ctrl + R)
Click on the Add button and add the OPUS file. After that, click on the Convert/Save option. 
Now select the Audio -Mp3 option from the profile and choose the destination where the mp3 file will be stored. After that, Click on the Start button.
How To Convert OPUS To MP3 On Android Phone
There are many apps are available in Play store to do this. If you want to convert your Whatsapp voice messages, you can download "Voice and audio manager for Whatsapp" app. This app is simple to use. Here is the complete guide on how to convert and save Whatsapp audio messages.
OPUS To Mp3 converter app is also available in Play store. But, you need to browse and add the Opus files in it. If you want to convert only Whatsapp messages, then "Voice and audio manager for Whatsapp" app is much better. Because it automatically detects the Opus files on your device. You just need to play and tap on the convert icon to convert the files.
Final Words
So, guys, this is the guide on how to convert Opus to MP3 on mobile and PC. However, many people searching it only because of Whatsapp voice messages. But, with these methods, you can convert any OPUS file. Though the VLC player also allows us to do this on PC.