How To Split Video For WhatsApp Status (Android & iOS)
|
How To Split Video For WhatsApp Status: It's true that WhatsApp is one of the best and most popular messaging apps. You can use it on smartphones, tablets, and even on PCs. Since the WhatsApp added a new status feature to share Photos & videos, it is quite popular. Most of the WhatsApp users share videos and photos on status daily.
But, WhatsApp limits its some features. It also limits the status video length because of some reasons. You can set the status video up to 30 seconds on it, and the video file size limit is 16MB. As same as, WhatsApp doesn't allow to send a full-size image. But, there are a lot of WhatsApp Tricks available. We can do a lot more than WhatsApp allow us. You can send a full-size image in WhatsApp (without compression). Also, it is possible to set a long video in WhatsApp Status using 3rd party apps or split the videos.
Recently, I also wrote about how easily you can add a long video in WhatsApp status, without rooting your Android smartphone. In which I mentioned the 3 ways to do this. However, many people use the 3rd party apps like GBWhatsApp, YoWhatsApp, and WhatsApp plus to set long status video. These apps also give some extra features. But, most of the people don't want to use these apps because of privacy and security concerns. Because privacy and security is a major issue on social networking platforms.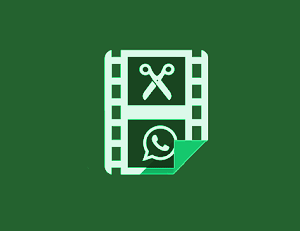 So, the safest method to set a long video in status is to split the videos into 30 seconds parts and upload. However, WhatsApp gives a built-in option to split the videos from it. For some users, it may difficult to do this. But, don't worry, there are many methods available.
4 Ways To Split Video For WhatsApp Status
Method 1. Using WhatsApp Video Splitter Apps (For Android)
While this may be true that, this is the one of the easiest and best method for Android devices. As we know, WhatsApp allows the maximum 30 seconds of video in its status. So, you can find tons of video splitter apps in Google Play Store, that are designed for WhatsApp status. Though, these apps are only for Android devices. You can't use this method on an iPhone.
These apps save the time because you don't need to split the videos manually. You just need to add video to the app, and the rest is done by the app itself. WhatsCut Pro (Video cutter for WhatsApp status) is one of the best apps in this category. Below is the download link.

Steps to use WhatsCut Pro
After download and install the app on your device. Open WhatsCut pro app from your smartphone. (You can also try other apps)
Now browse and select the video from WhatsCut Pro app. (The video must be stored on your smartphone)
After that, select the start point and end point of the video. (This is just a video starting and ending point. It doesn't matter how long the video is. Tap on the video to play it.) After, selecting the start and end points, tap on the right arrow icon. 
The app will show the progress and after that WhatsApp application will be open automatically.
After that, tap on the My status option from the WhatsApp and tap on the tick mark from the right bottom of the screen. 
Now, tap on the send icon to set the video status. (You will see the all split parts of the video. You can play video in WhatsApp before the tap on the send icon) 
That's it. Your friends can watch the full video in parts on your status. However, the video is in parts, but WhatsApp plays it automatically. You don't need to do anything else.
The best part of this app is it added the video sequentially. You don't need to worry about the sequence of multiple videos. Also, a major drawback of this app is video overlapping (May occur in few video formats) issues.
Method 2. Using WhatsApp (For Android & iOS)
You may know that WhatsApp gives the option to cut the video before uploading. So, you can use this option to split the videos. You can cut the video up to 30 seconds. However, this is the easy method for small length video, and you can use it on both Android and iPhone. But, it is a time-consuming process to split long videos.
Steps:
Open WhatsApp, and open Status, and tap on the My Status option.
Browse and select the long video from the gallery. After selecting the video, you will see the WhatsApp video editing options. Just set the video start and end point from 0 to 29. After that, tap on the send icon to set it as a status.
Now again browse the same video from the gallery, and adjust the video start and endpoint from 30 to 59. After that, set it as status by a tap on the send icon. 
Repeat the steps and select the video start and end point from 1:00 to 1:29, 1:30 to 1:59, 2:00 to 2:29, 2:30 to 2:59 and so on.
(Note: Options may differ in iOS)
Method 3. Using Video Editor and Splitter Apps (Android and iPhone)
There are hundreds of video editing apps available in Play Store and Apple's App Store. You can also use these apps to split the video. Though Whatsapp also gives the option to edit and cut the video, and I don't recommend to use other apps. But, if you need an advanced video editing tools, then you can use these apps.
You can search in Play Store and App store to download videos editing apps. It's your choice which app you want to download on your phone. For some peoples, it may difficult to use these apps. Also, some apps may contain ads and you need to pay.
Method 4. Using Online Websites & Tools
This is one of the worst methods. But, many people still using the online tools to cut and edit the videos. This is a time-consuming process. Because you need to upload the video to the server, and after that, you need to download your edited video file.
There are tons of online tools and websites available. But, it is risky for your privacy to upload and edit files online. So, don't upload your personal videos to edit online.
However, with this method, it is good to edit the video which is already online. Because you can cut and download online video, and it saves the time. After that, you can upload the video in WhatsApp status. Below is the link to split videos for WhatsApp online. (You can also try other websites and online tools)
Final Words
So, guys, this is the guide on How to split video for WhatsApp Status to set full video. If you have an Android phone, the first method is best for you. Because it saves your time, and you don't need to cut videos manually. iPhone users can use WhatsApp built-in option to do this. Because no such app is available for iOS users. Also, online tools useful only when the video file is on the internet. Otherwise, it is a time-consuming process. So, if you don't like the third-party apps like YoWhatsApp, WhatsApp Plus, and GB WhatsApp, then you can use any of these methods.